FeaturedSports
World silver has boosted my confidence
The judges won't be giving me points for my looks or height.'
'All I know is my punches are important and I just go about throwing them at my opponent.'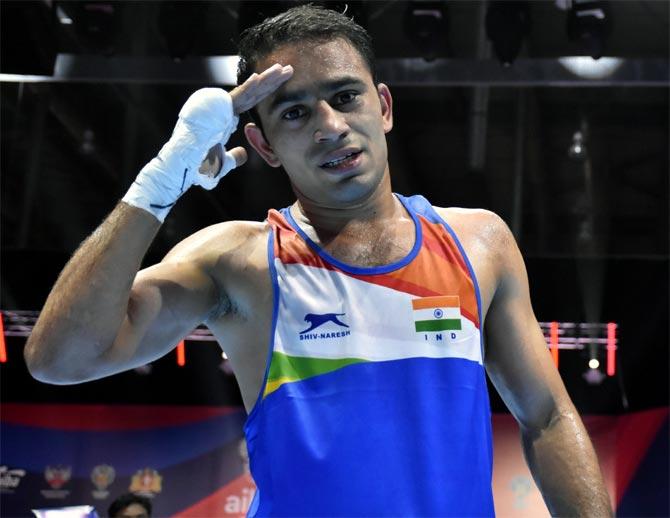 IMAGE: Amit Panghal is the first Indian male boxer to win a silver medal at the World Championship. Photographs: BFI/Twitter
One more felicitation for Amit Panghal in Mayna, his village in Haryana's Rohtak district, before he resumes training in Pune.
The shy type, India's latest boxing sensation does not enjoy basking in the hype and hoopla surrounding around his maiden silver medal at the World Championships in Ekaterinburg, Russia. He had requested friends not to come to the airport to welcome him. But, how could they not?
The video of the reception Amit received on his return is for all to see. The 23-year-old, who is comfortable in the roped square, is clearly embarrassed as you can see in the video below
Amit, who moved up to the 52kg class — his usual 49kg is not an Olympic category — with an eye on next year's Tokyo Games, stands 5 feet 2 inches.
Being shorter means he is unable to gauge his opponents from a distance and has to rely on his instincts. He has been successful because he knows how to counter the advantage gained by taller opponents using the key weapons in his arsenal: Fast hands and quick feet.
In the World Championships final, Uzbekistan's Shakhobidin Zoirov, an Olympic champion who had the height and reach advantage, was the favorite, but Amit gave him a good fight before finishing on the losing side.
Do you feel that being shorter it is difficult to make that first impression on your opponent and put fear in his mind?
See, the judges will not be giving me points for my looks or height. I don't think about it at all.
All I know is my punches are important and I just go about throwing them at my opponent.
The main thing is punching. I just focus on that.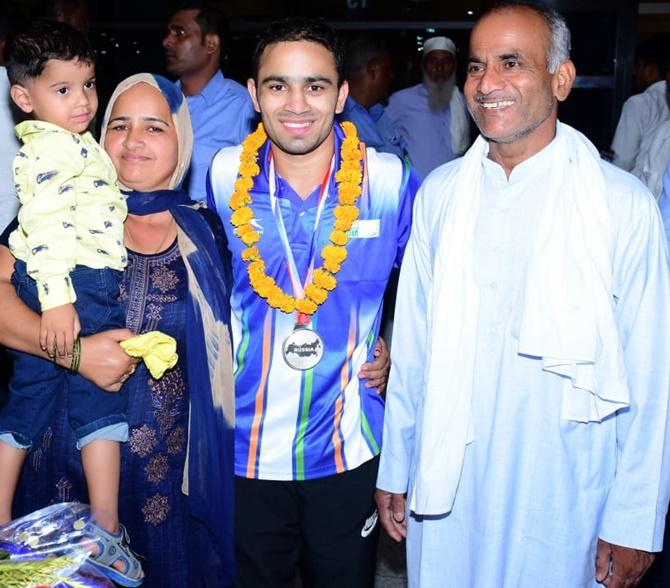 Are you superstitious?
I am not at all superstitious. Whether I am boxing in the red or blue corner, it doesn't matter.
Before the bout, I don't have any process; I just do the usual warm-up, stretching and chilling with the coaches, joking around.
Did you find the new sensors in the hand bandages useful?
I asked my coach about the final and I was told that 32 percent of my punches landed on target.
The BFI (Boxing Federation of India) is going to soon use that technology. In the long run, it is going to be helpful to our boxers.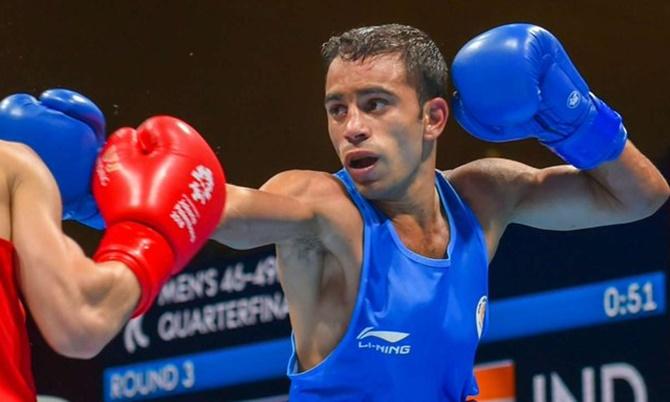 Tell us about your preparation for the Tokyo Olympics.
The win at the World Championships has boosted my confidence.
The Tokyo Olympics trials are in February and I will be back in training to prepare for that. My coaches are busy formulating strategies against my upcoming opponents.
We will try to grab as many quotas as possible in the first Olympic qualifier itself.
You are known as a master strategist. Do you play chess?
(Laughs). No, no. I just box! I am so focussed in training and I take it all to my bouts.
I am always training against taller boxers, southpaws.
I try to change my strategy and see what works for me during the sparring sessions.